I am rebuilding my Makaha skateboard, which I bought in 1978. During online research I came across a 70s ad of Wentzle Ruml holding what looks like an earlier version of my board: surfboard shape, 3-stringer look of dark and light wood vertically laminated deck and the Makaha branded wheels – two orange and two green ones. However I couldn't find mentions of a Wentzle/Makaha sponsorship, but instead learned that he used to be an original Dogtown surfer/skater on the Zephyr team.
Makaha is currently selling sets of an updated version of said wheels. And there's actually a n.o.s. set on eBay right now, where you can also find the risers the boards came with in the 70s. I also discovered an image of another board similar to mine, but with a wider outline and two extra strips of "stringers", with black printed "Jordie" on it. This had green risers, while mine had orange ones.
But I decided not to purchase 70s components – I have never seen the trucks offered anyway, reason enough to go with Bennetts, which are quite similar, with a high profile, considerable rake and hopefully sturdier baseplates.
My choice for wheels: here in Berlin there is Mantra Skateboard Co.. It's one guy building 60s style mini cruiser boards. The wheels he offers are caramel or white colored ones resembling 60s clay wheels in size, shape and branding. The urethane used is quite soft 78a, so the ride will still be as smooth as it used to be, however with a much narrower contact patch, not extruding the deck's outline.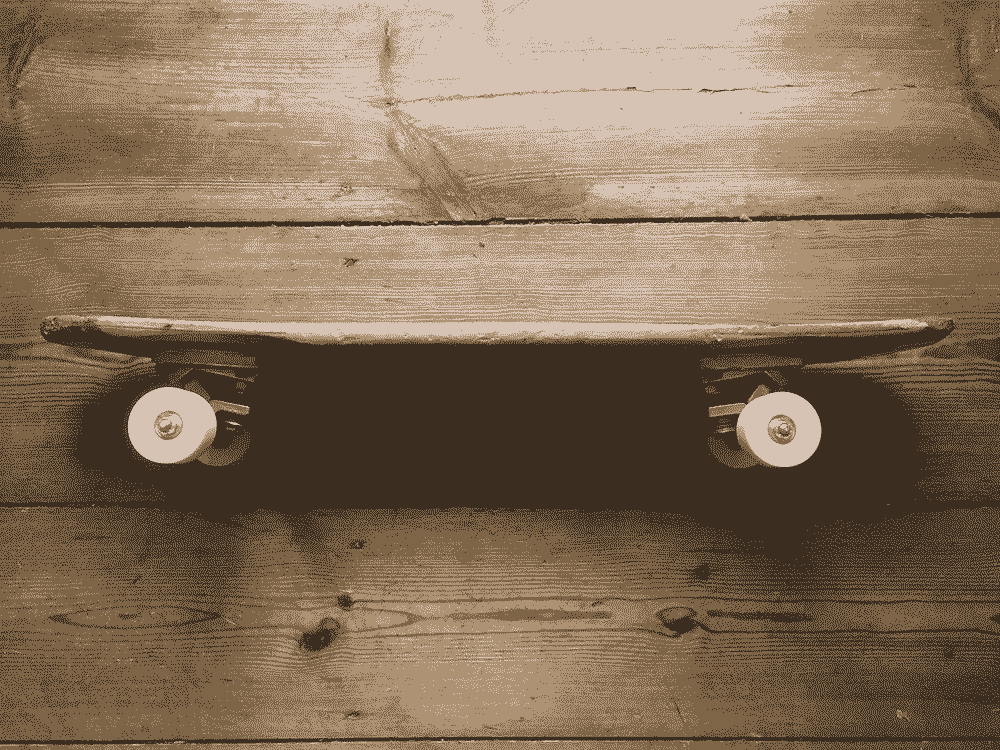 The Mantra wheels match the deck's style perfectly in my opinion, somehow bringing out the slight rocker and kick that have been Makaha design landmarks in skating history.
I will try and remove the dings and sand it carefully before finishing. I also hope to get rid of the ugly black graphic I sprayed on, some time in the 80s. The board originally had sand glued to the top which didn't last long in the critical spots. So I'm contemplating whether to put on clear griptape (like it currently has), stripes of regular griptape on the stringers, or white on the light wood segments or actually put a coat of Solarez and sand onto the deck. Hm…
Update:
The new trucks are latest generation Bennett Vectors 4.3. They are so similar to the Makahas that I would call the latter Bennett copies. I carefully smoothed and polished the pivots and they turn perfectly now, better than the Makahas, which no longer had the tall board-side bushings the geometry calls for, to be fair.
For grip I went with Lucid Grip. It's very close to the way it was gripped originally, but it was a little hard to distribute the ground glass evenly. The amount is enough for two longboards, so I gripped my Powell Diamond with it as well. And there's still a good volume left in the bottles!
The Mantras are rolling great and the board is a lot of fun to cruise around on. Once Corona is under control I will check some banks.