Saturday, November 12, 2016, 6 p.m. @ Echoplex, 1154 Glendale Boulevard and The Echo, 1822 Sunset Boulevard, Los Angeles, California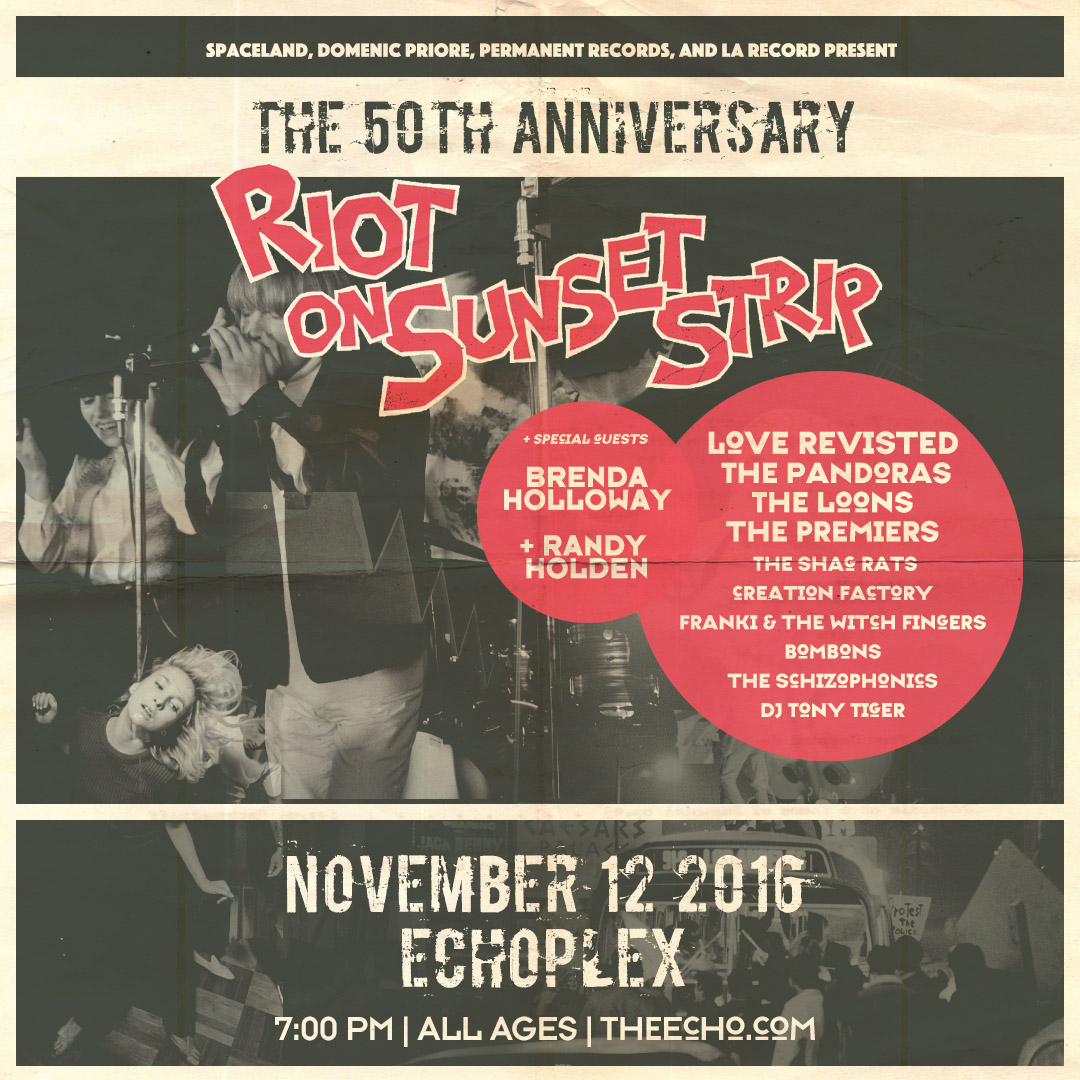 Source: Domenic Priore guest hosting – Celsius Drop (11.03.16) | dublab
Rock 'n Rollers Rioted on the Sunset Strip 50 years ago
Tickets
Also, just added to the show, Don Preston and Bunk Gardner, who were members of The Mothers of Invention from 1966-1969 ("Absolutely Free," "We're Only In it For the Money," "Cruisin' With Ruben & the Jets," "Uncle Meat," "Burnt Weenie Sandwich," "Weasels Ripped My Flesh"). They will perform upstairs at The Echo with The Creation Factory, all part of the same ticket price.

I would like to encourage everyone to get to this show by 8 p.m., because the opening set will be starting promptly with The Shag Rats, who then help to back The Premiers (East L.A. Nuggets legends of "Farmer John" fame) and Brenda Holloway (who grew up in Watts, and was the only L.A. artist signed to Motown, hitting with "Every Little Bit Hurts" and her original "You've Made Me So Very Happy")

The Loons will come on at 9:30, and after their set, they'll bring on Randy Holden, from 1965 Gazzarri's house band The Sons of Adam, who also were known to open for Love often at Bido Lito's. Randy moved over to a band called The Other Half, so you'll hear songs from both The Sons of Adam, and The Other Half.

At 11:05, The Pandoras, will take the stage, and Love Revisited will be the pinnacle, at Midnight.

Upstairs at The Echo, it will be Bomboms at 6:30, The Schizophonics at 7:15, Franki & the Witch Fingers at 8 p.m. and The Creaton Factory at 8:45. After Brenda Holloway finishes downstairs, Don Preston and Bunk Gardner from the Mothers of Invention will join The Creation Factoy on stage to play some of the material from the albums Don and Bunk were on the recordings of circa 1966-1969.