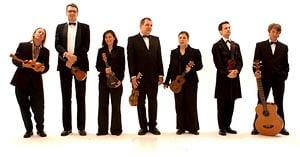 Highly recommended – very fun stuff. Especially when they find endless variations of chord patterns which repeat throughout musical history and make a big mix out of it. Incredible stuff. Apparently been together for 28 years – with showmanship and chops to match!
Here's the homepage.
Here's their music at iTunes.
They have a CD and live DVD out. Review to follow here. Today I got the info they're in Hamburg for the next two weeks – so don't miss them!