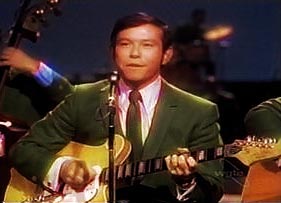 I don't have that many of his records – but I sure found a lot of his tracks at iTunes! He was very busy covering any style of popular guitar playing you can think of during the 60s and 70s. I guess most of you don't know him, so for starters I made a little 42 track Buddy Merrill iMix, which you can find at Itunes.
Here's what I wrote about it:
The versatile Buddy Merrill!
We start with a surfy/Ventures-style division before going into a nowsound/funky part. This turns over into his best bossa tracks on iTunes. After this we are exposed to a little gang of country favorites leading into Buddy's steel guitar skills featured on his coolest hawaiian offerings. We go Exotica for the second to last bunch of tunes. This leaves us to close this collection with three tunes pulled from the classical catalogue – Where Czardas had briefly taken us during the bossa section.

Here's his homepage www.buddymerrill.com.