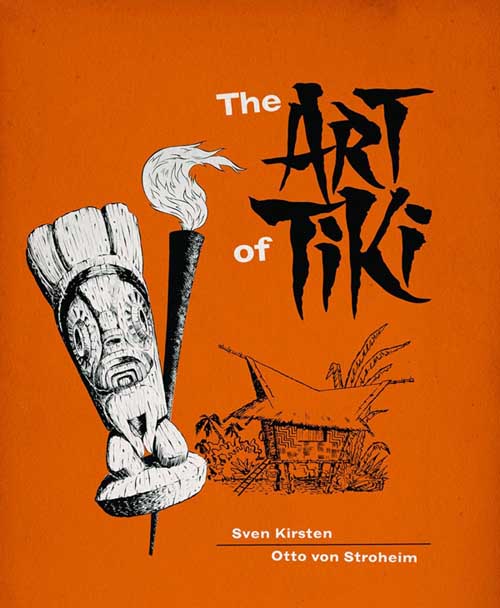 Saturday Dez 02 – The Art of Tiki – Book Signing Partywith Sven Kirsten at Trader Vic's Munich/Germany
Source: tikieurope.com – Anything and everything about Tiki Bars in Europe
Great graphics here for Strychnin Gallery's X-Mas Luau in Berlin on December 11th (2009), I'll be DJ-ing – yyyyyyesss Sir!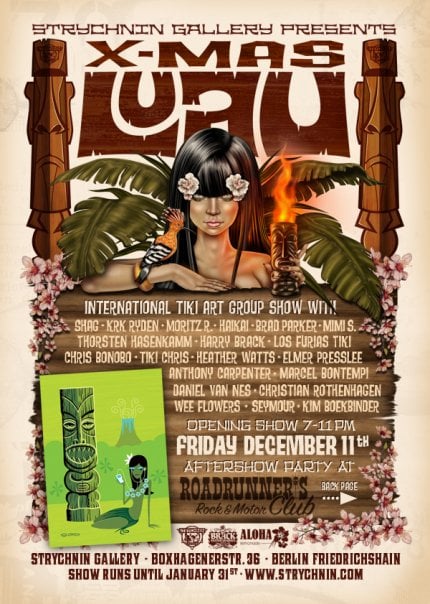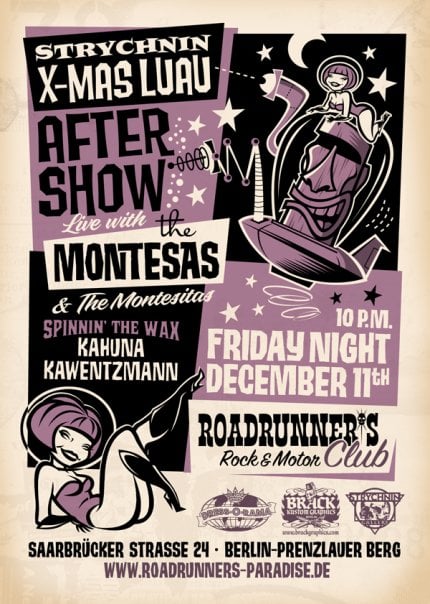 Quote from their Facebook page:
It will be Europeans most exciting Tiki event in 2009.

Direct from Los Angeles!

Josh Agle which is well known as Shag will be there and also Tiki Tribe father Sven A. Kirsten the autor of the Book of Tiki will
be part, selling and signing his Tiki Modern and Tiki Style books.

Come an see the art of: Shag, Kyk Ryden, Moritz R, Haikai/Kai Sarnes, Brad Parker, Mimi S., Thorsten Hasenkamm, Harry Brack, Los Furias Tiki, Chris Bonobo, Tiki Chris, Heather Watts, Elmer Presslee, Anthony Carpenter, Marcel Bontempi, Daniel Van Nes, Christian Rothenhagen, Wee Flowers, Seymour, Kim Boekbinder…
I have no idea. But it looks somewhat Witco-like to me. Considering it's on an island belonging to Europe's mainland Tiki-mecca Spain, which blossomed shortly before the decline of Tiki in the seventies, this could easily be from that period. The major property developement in this place dates back to that era as well.
I don't mean there are Tikis anywhere in this picture, but it reminds me of abstract late 60s and 70s works by William Westenhaver, as seen on page 216 in Tiki Modern by Sven A. Kirsten. Any hints?