Update: listening to an informative video about Surf Music, made by a guy in Southern California – aiming his efforts at students, and referring to the global phenomenon of Rock Instrumentals as inspired by Surf Music – only making an exception for The Shadows, I think it's important to point out that the european, asian and australian groups singularly mention The Shadows as their influence. One can assume they were also listening to the other early Rock'n'Roll instrumentals by Duane Eddy or Bill Justis. The only major exception is Japan, where the Eleki bands were inspired by american Bands like The Ventures and The Astronauts.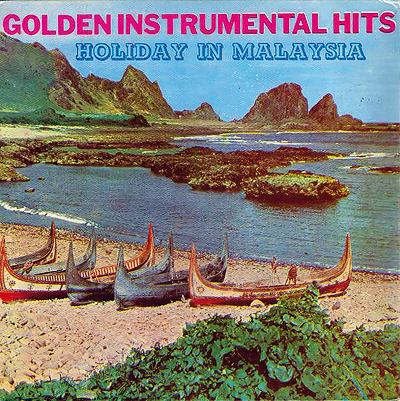 In recent years I realized a growing confusion about what would be called Surf music, so this post is my attempt to help bring order to the chaos for the interested. To keep things simple I will stay with 1960s guitar led instrumental Rock'n'Roll. When I got into this music, my peers and I could hear the differences of the regional variants. These all developed from 50s Rock'n'Roll, but the local scenes had distinct musical styles and sounds. Of course there's the ocassional band or release that is blurring the edges. I do like those in particular, but to make my point I will present genuine examples. I will mention some outstanding bands of each genre, post links to YouTube videos examplifying the genre in question and list gear-wise cornerstones.
Surf
Much has been written about Surf's history and I would like to refer you to the writings of Domenic Priore (Los Angeles Pop Culture historian), Bob Dalley (collected articles and interviews with first wave, SoCal Surf bands in his book Surfin' Guitars) and John Blair (author of The Illustrated Discographie of Surf Music 1961 – 1965). There's also tons of worthwhile info on Phil Dirt's website Reverb Central. Surf is the single musical genre to exploit the spring reverb unit to the extreme, sometimes with three reverbed guitars playing different parts of an arrangement, creating the trademark splashy, dripping wet sound. This kind of reverb effect is seldomly heard in other musical styles, but can be found on the drum tracks of 1970s dub reggae recordings. With the connection to mid century surfing culture came influences from abroad in the form of Flamenco melodies, Polynesian inspired Exotica tunes and jungle mood drumming.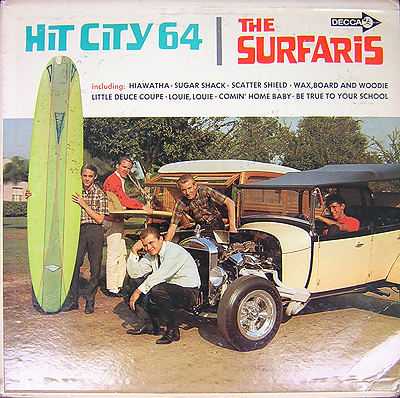 Geography
USA with the center being in Southern California
also Australia (mixing American energy with Euro echos)
Time
strictly speaking the first wave was 1961 – 1965
Bands
Dick Dale & The Del-Tones
The Livey Ones
The Astronauts
The Chantays
The Bel-Airs
The Surfaris
Gear
Fender Jaguar
Fender Jazzmaster
Fender Stratocaster
Fender Basses
Fender amps (Showman, Dual-Showman, Bandmaster, Bassman, Tremolux)
Fender outboard reverb unit
YouTube
The Astronauts – Firewater
Meshugga Beach Party – Hava Nagila / Miserlou
The Illusions – Nite-Mare
The Pyramids – Bikini Drag
The Safaris – Lonely Surf Guitar
The Atlantics – Bombora
Indo Rock
The bands had 2-3 guitars, electric bass and drums. The guitar sound was usually dry, played directly into Fender piggy-back amps. The Tielman Brothers experimented with tunings and extra strings, and used two Fender Bass VI for a while, tuned as a baritone and a six-string bass. Despite their indonesian heritage these bands didn't sound as exotic as one could expect. The major influence in repertoire and delivery is American Rock'n'Roll. However, part of the instro repertoire was european folk songs rocked-up. The Indo acts featured vocals as often as instrumentals. The unconventional handling of the guitars and the showmanship were their most unique assets.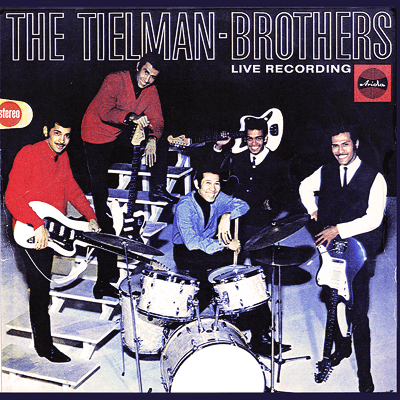 Geography
home country the Netherlands
touring Western Europe during the 1960s
Time
mainly late 50s to mid 60s
Bands
The Tielman Brothers
The Javalins
Gear
Fender Jazzmaster
Fender Bass VI
Gibson Les Pauls (Tielmans) and various Euro brand guitars in the early years
Fender piggy-back amps (see Surf)
YouTube
Electric Johnny & The Sky Rockets – Gitarren spielt auf
Oety & his Real Rockers – Sway
The Revolts – Pelita
The Javalins – Al Capone
The Tielman Brothers – Schwarze Augen
Eleki
Like all asian countries Japan has a long history of stringed instruments. Rock'n'Roll took a while to establish itself in Japan, with Swing and various Latin styles being more popular during the 1950s. The Japanese passion in adopting new technolgies and in turn starting native production lead to a host of homegrown electric guitar brands such as Teisco, Yamaha, Ibanez and Aria. The term Eleki is apparently derived from the english word electric. When The Ventures visited Japan in the mid 1960s something clicked there. The four piece's style and musicianship proved very inspiring to the local guitar-men and they in turn managed to record some of the most dramatic and powerful electric guitar pieces de resisténce in history.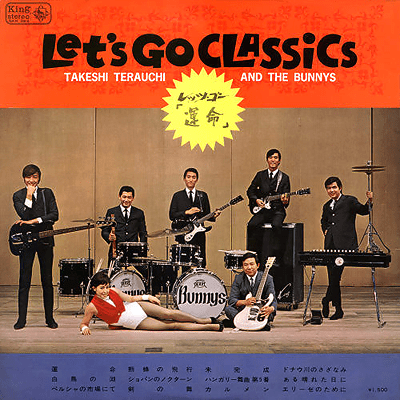 Geography
Japan
Time
mid to late 60s
Bands
Takeshi Terauchi & The Bunnys
Terry & The Blues Jeans
The Sharp 5
Gear
Fender Jaguar
Fender Basses
Fender amps
Yamaha guitars
Mosrite Ventures model guitars
Guyatone amps and effects
YouTube
Takeshi Terauchi & The Bunnys
Takeshi Terauchi & The Blue Jeans
Growing up in post-war Japan
Asia Á Go-Go Instrumentals
For some reason Singapore and Hong-Kong stand out with their instrumental recordings. The other south east asian countries like Cambodia, Malaysia, Indonesia, Thailand, Macao or the Philipines favored vocal recordings, but the odd instrumental can be found there as well. The bands often had electric organ, tape echo units, glockenspiel or vibraphon to enhance the exotic, guitar led melodies. Their melodies are more meandering than Rock'n'Roll ones and seem to be rooted more or less in traditional music. The beat is often popular local dance rhythms like the Hala-Hala, the Soul (also slow Soul), the A-Go-Go and the Off-Beat Cha-Cha. The last one is very similar to the Jamaican Ska or Blue-Beat.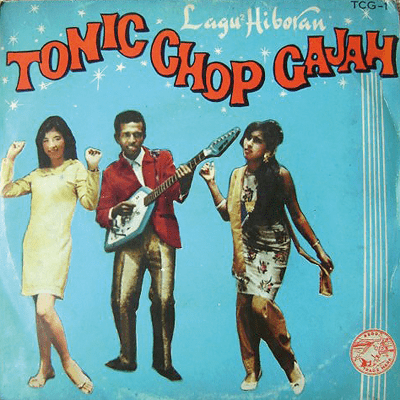 Geography
Singapore
Hong-Kong
Time
mid 60s to mid 70s
Bands
The Stylers
The Quests
The Fabulous Falcons
White Cloud Orchestra
The Trailers
The Silver Stones
Maurice Patton & The Melodians
Gear
Höfner guitars and basses
Fender Jaguar
Fender Stratocaster
Fender Basses
Fender amps (Showman, Dual-Showman, Bandmaster, Bassman, Tremolux)
combo organs
tape echo units
YouTube
The Stylers
The Telstar Combo
White Cloud Orchestra
The Sparklers
European Rock Instrumentals
Cliff Richard's band The Shadows started something big over here. They had Fender Stratocasters before anybody else and used the first Vox amps coupled with tube-tape echo units to create one incredibly beautiful sound. As could be expected, most countries or regions had their own variety of this RI recipe, but they still can be put into the same pot. Whether it's Finnish Rautalanka, Norwegian Piggtrad or Czech Big Beat – in the end they are more similar than not. Just like Surf, this sound had a second wave in the early 80s, but it was only realized by a tight knit collectors scene. Some recordings, like The Scorpions from England, sound very American, while others, like The Rowdies from Belgium, sound rather Australian. Forces Networks and international AM radio stations did wonders for hopeful European Rock Instrumental composers. There were also waves of eastern, classical and folk-song themed records.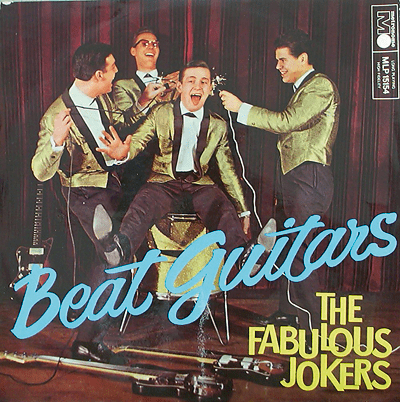 Geography
United Kingdom
European mainland
Time
late 50s to late 60s
Bands
The Shadows
The Spotnicks
The Tornadoes
The Sputniks
The Jokers
Ensemble Sincron
Les Fantomes
Los Electricks
Gear
Fender Stratocaster
Fender Jazzmaster
various Euro brands (Egmond, Höfner, Framus, Eko)
Vox, Selmer, Dynacord amps
echo tape units by Dynacord, Echolette, Meazzi and Vox among others
YouTube
Ellert Nordmark
The Moontrekkers
The Twangies
The Jumping Jewels
Cees & his Skyliners
Los Sonor
Atlantis
Sreburnite Grivni
Latin American Instros
This huge landmass is hard to pin down in regards to stylistic classification. What I have heard from there takes the toughness and dynamics of the American sound and mixes them with Euro qualities like flowing, sentimental melodies. The gear sounds very north American.
YouTube
Los Belkings playing Theme for Young Lovers
Biker Exploitation Movie Soundtracks
This can easily be summed with one name: Davie Allan. He left his earliest Surf stylings behind when he discovered the sound of the fuzz guitar and recorded loads of American International exploitation movie soundtracks until around 1970. He is still recording and playing live, and lost none of his bite and instinct for brooding, moody and exciting melodies.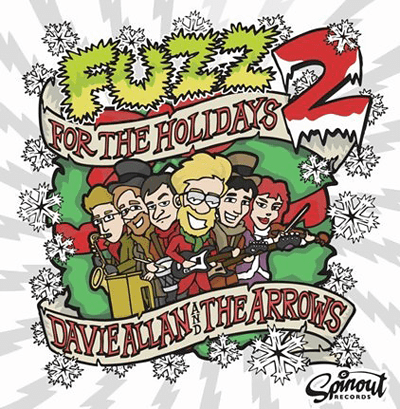 Gear
Mosrite doubleneck "Joe Maphis Model"
modified Fender Jazzmaster
Mosrite Fuzzbox
modern distortion unit (maybe a Rat)
YouTube
Davie Allan & the Arrows
The Pioneers
These musicians played instrumental Rock'n'Roll before anybody else. They kept going through the 60s, in some cases until today and actually moved very close to the Surf sound with some recordings in the early 1960s. But after all these excursions made up one or two albums in their much bigger back catalogues.
The Ventures
Sandy Nelson
Duane Eddy
Link Wray
Johnny & the Hurricanes
Here's a Grain of Sea-Salt
So why was it easier to learn details about these somewhat similar styles of music, identifying a sound with the correctly matching name, before the internet? Seems backwards, right? You have to keep in mind that on the internet everybody can put a label on everything. This is the main cause of mixing up historical, regional styles.
To us on the other hand it was easier to distinguish, because the sounds came from very different sources. Let me explain. In Germany you would see Ricky King on TV, hear The Shadows on the radio, read about Indo Rock in a hipster magazine but hardly ever saw any records. Surf was a genre you did find records of in shops, mostly second wave and compilations, and on record conventions with crates full of original, vintage vinyl. Eleki was only on the radar of jaded and wealthy collectors and the Hong-Kong/Singapore bands were practically unknown.
When somebody played a record to you he knew what it was. All these musical styles have been given names by people. These names made sense to them, for one reason or another. Trying to change names of historical styles in retrospect is laughable and unjustified.
I never understood what the movie King Kong had to do with 1930s' New York. I always thought it had a strong Godzilla vibe to it.

– Tintin Quarantino
One Question Remains
Why of all the different styles is it Surf's name that keeps being attached to the others? Eleki would make more sense for a generalization, after all they're all being played on electric guitars. Or the the term Rock Instrumentals (or short RI) as used by such pioneering british zines like Pipeline and New Gandy Dancer.
The answer has two parts. The internet is US dominated and it was a Hollywood movie bringing instrumental Rock back into the general mainstream consciousness in the mid-nineties. The tracks chosen in Pulp Fiction happened to be Surf. Understandably people in the mainstream, not knowing the variety inside the field that is Rock Instrumentals, think the meanings of Surf and RI are interchangeable,.
Second, it's a short word people love to say. People like to say different words at different times in their lives. Often these words have four letters: mama, baby, love or tiki.
Most Helpful Hint
Saying "surf" slowly sounds a bit like what it means. A peeling lip sizzling towards you. The slightly hollow rumble of the curl lifting you up and washing over you. And finally the F, which is the white water rolling to shore. If you can't follow me here, then don't continue reading that a stage filled with three 1963 Fender Showman amps, a drumset, dual saxes, heavily reverbed, loud and clean lead guitar over a thundering bass are the musical translation of a surf experience. I have never heard about anybody in attendance at such a surfers stomp in the early 60s in California denying this.