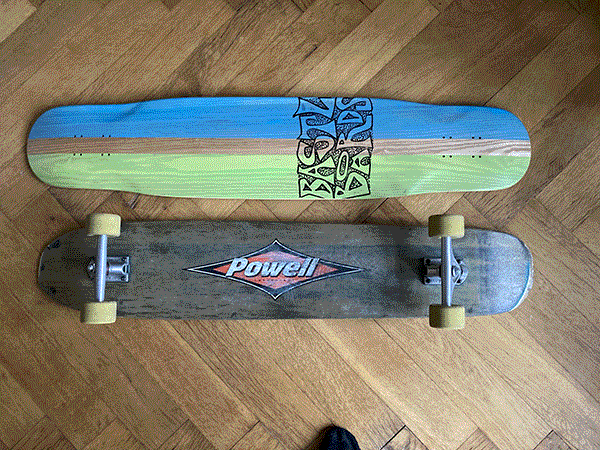 This was my first longboard deck. I purchased it in the mid 90s to practice cross stepping on. It used to have a nose bone because I figured doing lots of nose wheelies might take a toll. But actually the tail suffered early on because the banked walls at the then new Kunsthalle extension building in Hamburg are rougher than they look.
So as the razor tail got worse and worse I had to start thinking about replacing this very special board. This season I put on 165mm 50° Paris V3 trucks. I got used to them quickly, only missed the old swing weight. You see, reverse kingpin trucks like Paris create a shorter wheel base. For years the board used to have heavily wedged Thunders. Wedging effectively increases the wheelbase (plus the Bolzen wedges added considerable mass).
Anyway, looking all summer for a replacement which has a classic sidewalk surfboard shape, nothing did materialize. Neither did a nice dancer like a Lush Legend (probably Brexit is to blame). The Loaded Mata Hari only came out very recently. So in autumn I discovered the Bastl Boards Bolero. It's about the same length with a longer wheelbase. The necessary lean on the 70 mm 85a Cult Creator wheels will hopefully be kept from wheel bite with the new deck's wheel wells.
I set this up asymmetrically because I'm used to a shorter nose and the variation in kick clearance that comes with it might be a good thing. Looking forward to ride it!